Back to top
News and Announcements
Schedule A Tour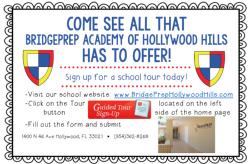 Sign up for a school tour today and see all that BridgePrep Academy of Hollywood Hills has to offer!
#BridgePrepAcademyofHollywoodHills #BPAofHollywoodHills #BridgePrepBulldogs

March 2019 Calendar
February Calendar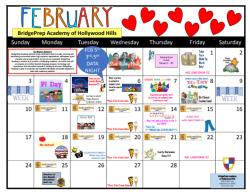 Sign Up For A School Tour Today!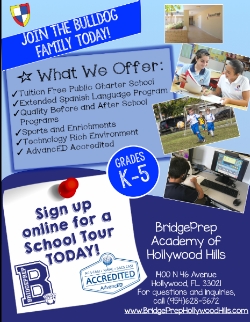 Interested in learning more about our school?
Come out to a school tour and see all that BridgePrep has to offer!

Open Enrollment for the 2019-2020 School Year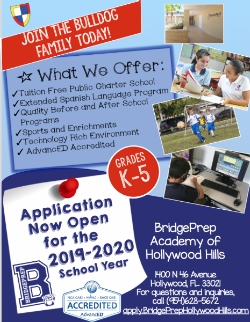 The new student application for the 2019-2020 school year is NOW LIVE!
Become a part of the BridgePrep Bulldog family. Apply Today!

**NOVEMBER** Calendar (*revised*)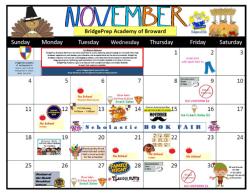 This is the activities calendar for November 2018 with the revised addition of the Scholastic Book Fair during the week of November 13th - 16th.

BridgePrep Family Event- Miami Dolphins Game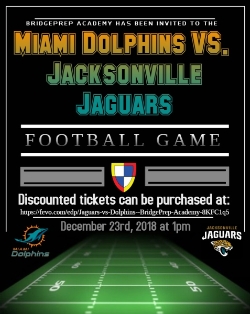 BridgePrep Academy has been invited to the Miami Dolphins vs. Jacksonville Jaguars football game. The game is on December 23rd at 1pm.
For discounted tickets, please visit https://fevo.com/edp/Jaguars-vs-Dolphins--BridgePrep-Academy-8KFC1q5.
Can't wait to see you at the game!

NO UNIFORM DAY FOR $2 FRIDAY, OCTOBER 26th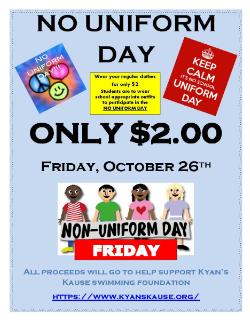 You can buy a NO UNIFORM pass for $2 this Friday, October 26th. The money collected will go to Kyan's Kause Swimming Foundation. Help us support this worthy cause!

HAPPY WORLD TEACHERS DAY!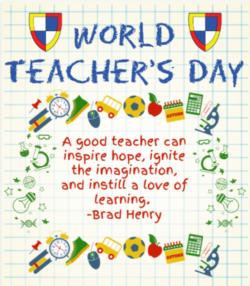 To all the teachers in the world, today we celebrate you!
Happy World Teachers Day!
#HappyWorldTeachersDay #BridgePrepTeachers #BridgePrepAcademySchools #BridgePrepAcademyofHollywoodHills #WeAreBridgePrep

2018 October Calendar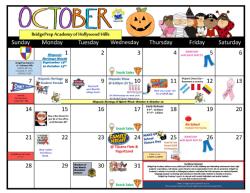 October 2018 Events Calendar for BridgePrep Academy of Hollywood Hills